Dental Implants Burien, WA
At Burien Dental Clinic, we pride ourselves on staying current with the latest advances in dentistry. This approach means we can bring you the most effective dental treatments available, including quality dental implants in Burien, WA.
Dental implants in 98166 are one example of the way we use state-of-the-art materials and technology to bring you the most effective dental treatments around. And our cosmetic dentist in Burien relies on quality materials to create natural-looking dental implants that complete your smile.
If you want to maintain a healthy smile, missing teeth need to be replaced. Obviously, you don't want to walk around with a big gap in your smile, but missing teeth can also lead to more complicated oral health problems, which is why replacing them is so important.
If you're considering dental implants in Burien, WA, contact our Burien, WA dental team to schedule an exam with our top implant dentist.
Meanwhile, read through the questions we hear most often from patients in our area.
What are dental implants in Burien, WA?
Dental implants in Burien, WA are thin posts made from strong titanium. These posts are surgically implanted in your jaw and bond with your jawbone over several months. When bonding is complete, our Burien, WA dentist caps your implant with a natural-looking restoration tooth, also called a dental crown.
Our dental implants blend with your natural teeth to create a seamless smile—no one will guess that you've had implant placement.
If you're missing multiple teeth or suffer from full tooth loss, ask our dentist about implant-retained dentures or bridges. Dental implant posts—usually no more than six—are strong enough to support a full arch of replacement teeth!
What makes dental implants in 98166 different?
There's one major difference between dental implants and other types of tooth replacements like bridges or dentures.
Dental implants in 98146 are the only tooth replacement option that has an artificial root that secured in your jaw—just like the structure of a natural tooth. While this may seem like a minor difference, a synthetic tooth root means that your dental implant works and functions like a natural tooth. It supports your jawbone to prevent bone loss and even stops natural teeth from shifting or moving toward smile gaps.
Once Dr. Blake Sessions determines that an implant is the right step for you, he starts the process by placing a small titanium implant post in your jaw. The post is left to heal for several months, and during that time, it fuses securely with surrounding bone and tissue, becoming a permanent part of your jaw.
Once the implant has healed, it's time for your crown to restore chewing function and appearance. As part of the process, we spend time talking to you about dental implants and our other tooth replacement options. We want you to be confident and comfortable with your decision and delighted with the outcome.
We also encourage your questions and are always happy to spend time helping you plan your smile and make the best decisions for your oral health and smile restoration. Our team enjoys helping patients reach their smile potential.
What are the oral health benefits of dental implants?
If you have missing teeth and are trying to decide which tooth replacement is right for you, there are several reasons why Dr. Sessions might recommend dental implants in 98146:
Dental implants look, function, and feel most like natural teeth.
Dental implants help prevent problems like misaligned teeth and deterioration of the jaw bone.
With dental implants, your teeth will be stable and secure so that you can enjoy all your favorite foods.
We can use implants to hold dentures securely in place to prevent slipping and shifting.
Dental implants are reliable; they have been in use for over 40 years and have a 95 percent success rate.
How do I know if dental implants will work for me in 98166?
Deciding to get dental implants is a big step, and we want to support you in any way we can. Most people who are healthy enough to undergo a minor procedure are good candidates for dental implants. But the only way to know for sure is to schedule a commitment-free consultation with Dr. Sessions.
He will perform a thorough examination and explain all your tooth replacement options. We treat all our patients with honesty and respect. In our dental office, you don't have to worry that we will push you into a service you don't want or need.
What will dental implants cost in Burien, WA?
Dental implant pricing depends on several factors, including the number of implants, implant-supported dentures vs. a single implant placement, preparation for implant placement, and even the state of your oral health before dental implants.
After Dr. Sessions reviews your oral health, takes x-rays, and discusses your treatment plan with you, a member of our team can provide a reasonable cost estimate.
It's important to remember that dental implants are not like dentures or even like dental bridges. Your dental implant posts are an investment in your oral health that is meant to last. Your posts, if you take care of them, will remain viable for life.
We also accept CareCredit, a health care credit card that helps patients get the services they want without worrying about insurance limitations. CareCredit provides easy repayment options and interest-free financing. The application process is simple, and decisions usually arrive in minutes.
A member of our team can also talk to you about other avenues for financing your dental work—whether it's dental implants in Burien, WA, or another tooth replacement option.
How can I keep my dental implants in good shape?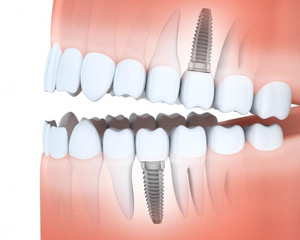 Dental implants are the gold standard in tooth replacement for several reasons. In addition to functioning like natural teeth, they also require the same kind of care—not special care, just good oral hygiene at home and regular dental visits.
With dental implants, you brush and floss twice daily and visit your Burien, WA dentist every six months for exams and cleanings.
Exams help our dentist spot issues that can compromise your teeth and your dental implants—such as gum infections or periodontal disease. Regular teeth cleanings clear away the bacteria that contribute to periodontal disease and dental infections.
While your dental implant cannot decay, gum disease can compromise your teeth and your gum health. This can lead to implant loss and even further tooth loss—just like natural teeth!
Also, we invite you to contact our dental team anytime following your dental implant placement if you have questions or special concerns about implant care. As a rule, however, you can eat, laugh, and go forward with confidence provided you brush, floss, and visit your Burien, WA dentist.
Contact Our Burien, WA Dental Office Today
Are you ready to learn more about dental implants and other tooth replacement options? We'd love to set up an exam and implant chat and help you take the next step to a whole and healthy smile.
If you have any questions or would like to start your smile journey, get in touch with a member of our caring team today.