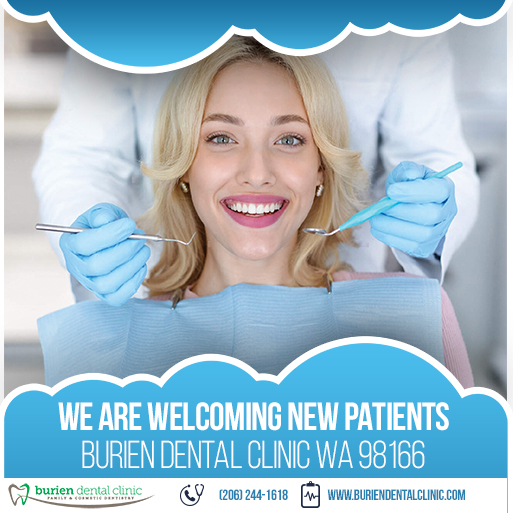 If you're looking for a skilled and compassionate dentist in Burien, WA, we are currently accepting new patients. We can schedule an individual exam or exams for yourself and your family members. At Burien Dental Clinic, we treat patients of all ages—from children to older adults.
New Patients: Here Is What to Expect
In our dental clinic, you will always be greeted warmly by a member of our professional dental team. We will take the time to get to know you and answer any questions that you may have.
We collect insurance information and take a health history at the time of your first exam. You can arrive early to your appointment to fill out the appropriate paperwork or download it from our website.
When it's time to meet your dentist in 98146, you'll discover kindness and compassion. We also provide children's dentistry in Burien, WA, and our team—and dentist—are great with children.
Your first exam typically includes:
An oral exam, including an oral cancer screening and periodontal check
X-rays to see what is going on below the surface
A chat with your dentist to learn more about your smile goals
If time allows—and depending on the arrangements made—you will also have a teeth cleaning with our dental hygienist.
A teeth cleaning clears away the tartar and plaque that your toothbrush and floss cannot remedy completely. A professional cleaning lowers your risks for cavities, periodontal disease, and dental infections.
Based on exam findings, your dentist in Burien, WA will put together a treatment schedule for you—or you and your loved ones. This includes the best that general dentistry has to offer:
Fillings
Root canals
Tooth replacement
Restorative dentistry
Orthodontics
We are also here if you decide to upgrade your smile through cosmetic dentistry.
Looking for a Dentist in 98146?
At Burien Dental Clinic, we look forward to caring for all your dental needs.