General Dentistry Burien, WA
At Burien Dental Clinic, we are pleased to offer an array of comprehensive services to address your family's ever-changing needs. Whether you want to maintain your healthy smile or have multiple problems that need to be addressed, we're here to support you in achieving your goal of excellent oral health.
One of our goals is to help you understand how important a problem-free smile is. As a general dentist, Dr. Blake Sessions makes it easy for your family to receive the highest quality care in a calming and friendly environment. We offer the preventive services you need to keep your smile healthy as well as restorative services if something goes wrong.
Healthy Solutions for Your Smile
Your family's dental needs change through the years, and we are happy to provide the care you need. If you have a little one who's ready for their first trip to the dentist or you're a senior who has age-related problems, we have the treatment you need.
Some of the general dental services we offer are:
Preventive exams and x-rays
Professional cleanings
Tooth-colored fillings
Periodontal care
Crowns and bridges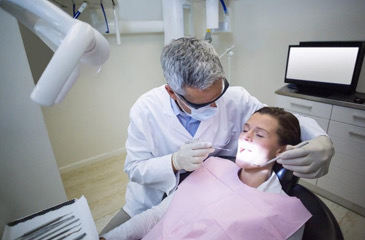 If Dr. Sessions feels you would benefit from seeing a specialist, he will coordinate with them to ensure that you receive the highest standard of care.
Your Personalized Treatment Plan
We want you to feel comfortable talking to us anytime you have a problem. Our team will work hard to build a trusting relationship with you that puts you at ease and inspires you to a healthy smile.
You may only need routine cleanings and exams or you may have a family member who's dealing with several dental conditions that have developed over time. Either way, we will develop an individualized treatment plan. Once you are comfortable and committed to your treatment plan, if there is additional treatment we need to do, we will set goals together to help get you on the road to excellent oral health.
Convenient Care in a Comfortable Environment
It's not just convenient to have all your dental needs met in one location. You'll also have peace of mind because you know your treatment will be handled by a familiar team you feel comfortable turning to if something goes wrong.
Our office is open Monday through Saturday from 9 AM to 6 PM, and we are conveniently located close to Seahurst Elementary, JFK Catholic High School, and Highline Public Schools. Many of our patients work at surrounding businesses like Boeing, Amazon, and Highline Medical Center.
Our Insurance and Financing Options
We are in-network with numerous insurance plans, including Aetna, Cigna, Delta Dental, MetLife, and many others. If we are not in your network, we accept and will process all insurance claims on your behalf.
If you are uninsured, we offer financing options like CareCredit interest-free financing and in-house payment plans on a case-by-case basis.
Please Call to Arrange an Appointment
Dr. Blake Sessions and the team at Burien Dental Clinic would love to meet you and help you achieve a healthy, attractive smile. Please call us at (206) 244-1618, and we will be happy to help you arrange a convenient appointment and show you how we can help your family achieve perfect oral health.